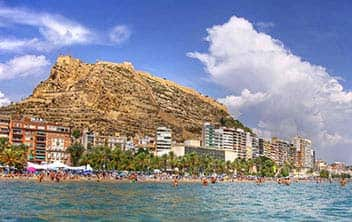 OCEANIA CRUISES MEDITERRANEAN CRUISE SALE!
The diverse destinations on our itineraries offer myriad opportunities for exploration, but our ships also feature a multitude of enriching activities onboard that reflect the varied interests of those with an appreciation for the finer things in life. Listen to a distinguished pianist interpret a Bach concerto. Shop in the botiques, or enjoy a rousing game of Team Trivia. If you're sailing onboard Marina or Riviera, you may even take a hands on cooking class taught by a Master Chef in the Bon Appetit Culinary Center.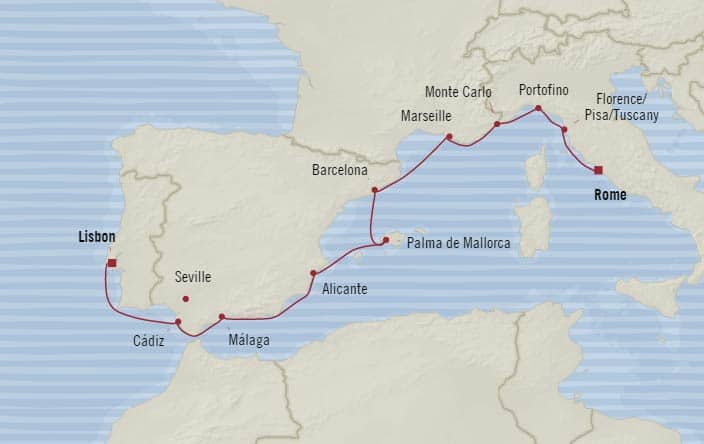 Iberian Escape
Lisbon to Rome
10 Days on Marina
Sail Date: 5/1/2017
Veranda From $1799 US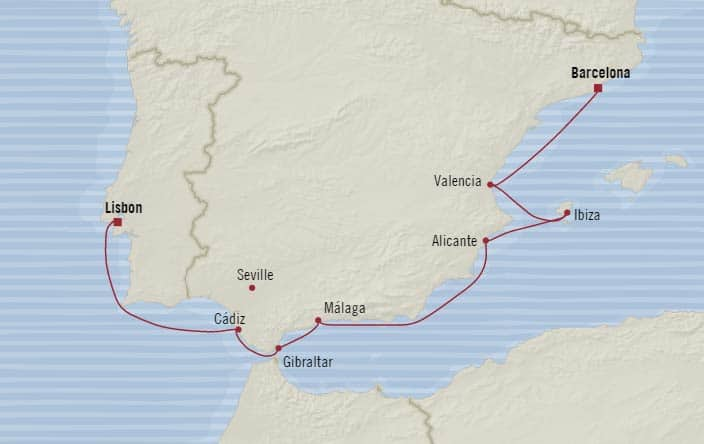 Salute to Spain
Barcelona to Lisbon
8 Days on Nautica
Sail Date: 5/16/2017
Veranda From $1699 US
European Collage
Barcelona to Rome
7 Days on Riviera
Sail Date: 5/28/2017
Inside From $1299 US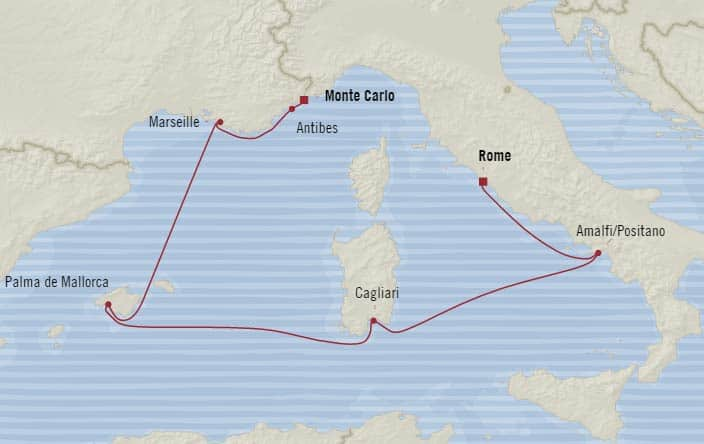 Coastal Mediterranean
Rome to Monte Carlo
7 Days on Riviera
Sail Date: 6/14/2017
Veranda From $1099 US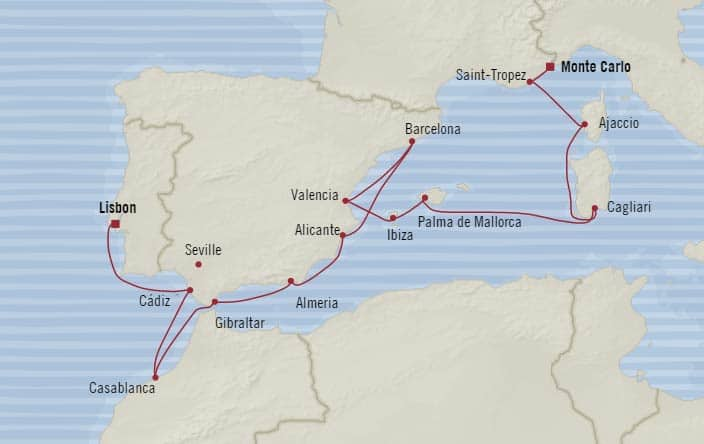 Enchanting Mediterranean
Monte Carlo to Barcelona
7 Days on Riviera
Sail Date: 6/21/2017
Inside From $1199 US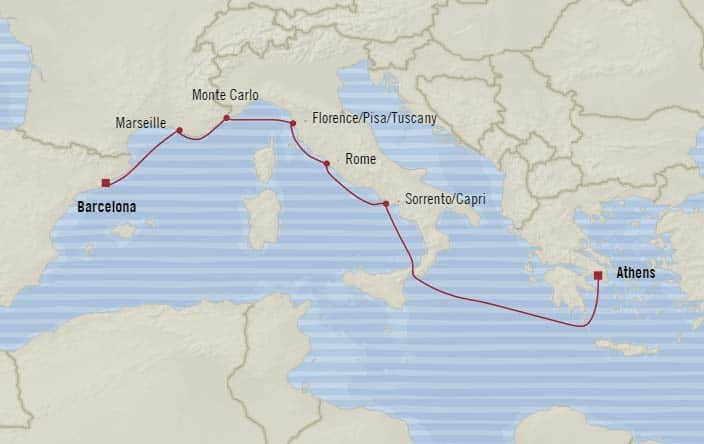 Mediterranean Havens
Athens to Barcelona
7 Days on Riviera
Sail Date: 9/1/2017
Inside From $1249 US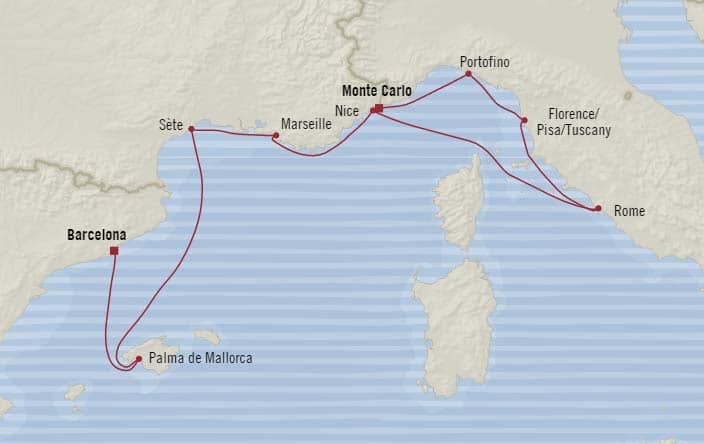 Cosmopolitan Collage
Monte Carlo to Barcelona
8 Days on Riviera
Sail Date: 10/17/2017
Inside From $1099 US
Medieval Masterpiece
Venice to Rome
8 Days on Riviera
Sail Date: 11/6/2017
Inside From $1099 US

Marina & Riviera
These brand new ships are the most beautiful, elegant and sophisticated ships to debut in the past 50 years. Designer touches are everywhere, from the magnificent Lalique Grand Staircase and stunning Owner's Suites furnished in Ralph Lauren Home, they are showcases of the finest residential design and furnishings. More than anything, Marina and Riviera personify the Oceania Cruises experience. While the country club casual ambiance and level of personalized service remain the same, they offer even more choice and some enticing new amenities. As the first ships designed for lovers of fine dining and travel experiences, Marina and Riviera offer guests a total of 10 dining venues, of which six are open-seating gourmet restaurants with no surcharge. La Reserve by Wine Spectator offers enlightening wine and food pairings. The new Bon Appetit Culinary Center is the only hands-on cooking school at sea. Similarly, artists-in-residence teach fine arts in Artists Loft, a new enrichment center. For specialty coffees and snacks, there is Baristas Coffee Bar. Intimate lounges abound. Accommodations in every category are incredibly spacious, especially with regard to the lavish bathrooms.

*Offers expire Mar 31, 2012. All advertised fares, offers and any applicable shipboard credits, upgrades or special amenities shown are per person based on double occupancy unless otherwise indicated, are subject to availability at time of booking, may not be combinable with other offers, are capacity controlled and may be withdrawn without prior notice or remain in effect after the expiration date. All fares listed are in U.S. dollars, per person, based on double occupancy and include Non-Commissionable Fares. Cruise-related Government Fees and Taxes of up to $17 per guest per day are additional. For itineraries shown with multiple departures, sailing prices may vary and any "Fares From" pricing is based on Category G unless otherwise indicated. Single rates and rates for 3rd and 4th guests are available upon request; call for details. Cruise Ship Fuel Surcharge may apply and, if applicable, is additional revenue to Oceania Cruises. 2 for 1, Early Booking Savings, Back to Back and Special Offer fares are based on published Full Brochure Fares. Full Brochure Fares may not have resulted in actual sales in all cabin categories, may not have been in effect during the last 90 days and do not include Personal Charges and Optional Facilities and Services Fees as defined in the Terms and Conditions of the Guest Ticket Contract which may be viewed at OceaniaCruises.com. Full Brochure Fares are cruise only. Oceania Cruises reserves the right to correct errors or omissions and to change any and all fares, fees and surcharges at any time. Suite and Stateroom measurements are approximate, and those in same category may vary in size. They may also have different furniture placement than as depicted in the photographs. Additional terms and conditions may apply. Complete terms and conditions may be found in the Guest Ticket Contract. Ships' Registry: Marshall Islands.