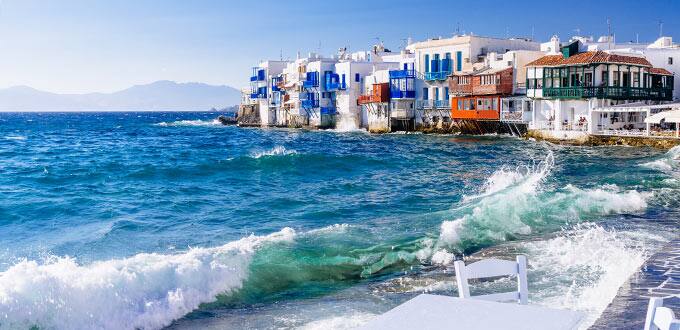 Norwegian Star Eastern Med & Greek Isles Cruises!
Enjoy the unique ports and countries of the Eastern Mediterranean in 2017 with Norwegian Star. Highlights include Corfu, Santorini, Mykonos, Ravenna, and Venice. Onboard experience unparalleled entertainment where you can enjoy one world-class act after another. Choose from 15 dining options and 11 bars/lounges.
Ashore enjoy a romantic gondola ride on Venice's ancient canals and savour rich gelato from a local shop before departing for the Greek Isles. Stroll Mykonos' charming narrow streets lined with its famous white houses and picturesque churches and then unwind on the island's beautiful beaches. Explore historic churches and marvel at Ravenna's brilliant 4th- to 6th-century Byzantine, early Christian mosaics - named a UNESCO World Heritage site. Natural beauty, masterpieces and history intertwine to create the vacation of a lifetime.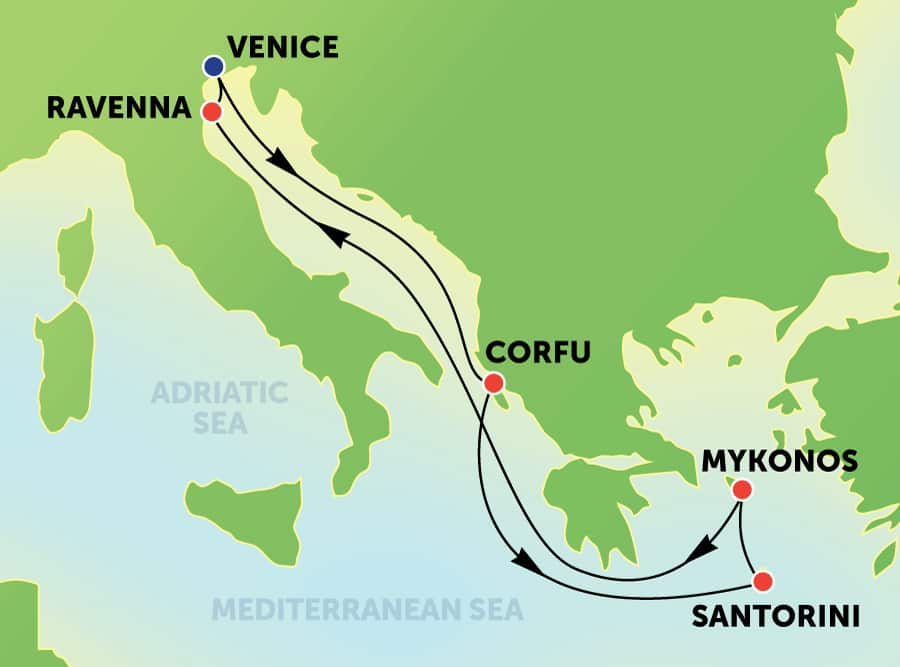 7 Day Greece & Italy Med Cruises Roundtrip Venice
onboard Norwegian Star
Cruise Itinerary:
Day 1 - Venice, Italy
Day 2 - At Sea
Day 3 - Corfu, Greece
Day 4 - Santorini, Greece
Day 5 - Mykonos, Greece
Day 6 - At Sea
Day 7 - Ravenna, Italy
Day 8 - Venice, Italy
2018 Dates:
June 10, 17, 24
July 22, 29
August 5, 12, 19
September 2, 9, 16, 30
October 7, 14

From $649 US
*Book an Inside to Receive 1 Free Offer!
*Book an Ocean View, Balcony or Mini-Suite to Receive 2 Free Offers!
*Book a Suite to Receive All 4 Free Offers!
-Free Unlimited Open Bar
-Free Specialty Dining
-Free WiFi Internet Package
-Free Shore Excursion Credits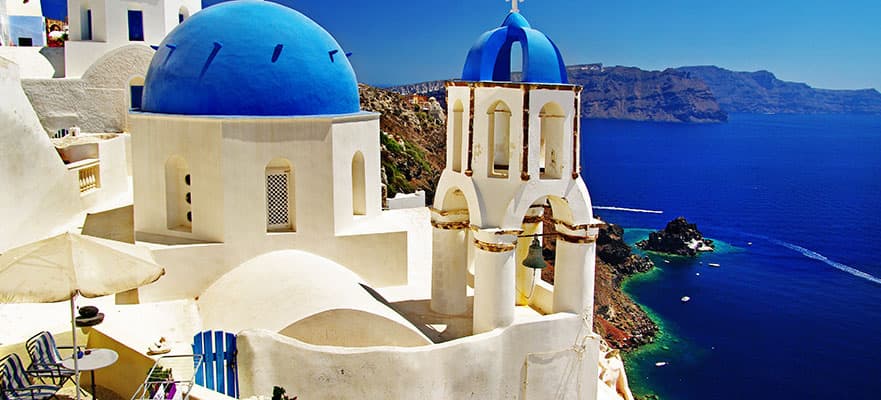 Greek Isles Cruise Highlights:
Corfu, Greece - One of the lushest of the Greek Isles, Corfu is rimmed in dramatic blue waters and topped with tranquil hillside villages. A collection of quaint cafes in the town of Corfu feels very continental, but the island's secluded coves and sandy beaches could only be found in the Greek Isles.
Santorini, Greece - Whitewashed villages clinging to the sides of the sea cliffs have made the volcanic island of Santorini one of the most widely photographed places in the world. The island's charm and subtle mystery have even made it a target of speculation as the location of the lost city of Atlantis.
Mykonos, Greece - Mykonos is a classic Greek Island with whitewashed houses, blue-domed churches and windmills. Add a reputation for beautiful beaches and you'll understand why Mykonos is the most popular island in the Cyclades. Explore the island in a 4 x 4 or take a ferry to the tiny island of Delos.
Ravenna, Italy - Along the northeast coast of Italy is where you'll discover the historic town of Ravenna. Once a thriving seaport in ancient times (it now lies five miles inland), Ravenna was also the westernmost pillar of the Byzantine Empire. Just as everyone who visits, you too will marvel at the exquisite Byzantine mosaics. At first glance the old streets, peaceful squares and fine shops resemble any other Italian city, but the Byzantine domes of its churches still evoke its Eastern heritage. As an added bonus, Ravenna is a great place to taste the famously delicious food of the Emilia-Romagna region.
Norwegian Star - The Norwegian Star blends the relaxed Freestyle Cruising concept with cruises to the Greek Isles. Onboard Norwegian Star features 15 delicious dining options, 11 bars and lounges, a sprawling spa, an always exciting casino, plus tons of fun for kids of every age. So no matter where you are exploring this ship offers it all.
Enjoy the World Class Spa! Revive, refresh and recharge in the Mandara Spa. Let our pampering professionals soothe and rejuvinate you with facials, massages, acupuncture and more. Our full menu of services will leave you feeling like a million!
Mix it Up with 10 Bars and Lounges! Norwegian Star feature up to 10 bars and lounges, each with its own unique vibe. Gather at Gatsby's Champagne Bar for a sunset toast or try the international selection of beers at the outdoor Bier Garten.

All pricing above is in US Dollars, per person. Port charges & taxes are additional. Pricing is based on two people sharing and subject to availability. The "From" price listed on our website is for the April 30th departure date; other dates may have different pricing, please inquire. All pricing is based on availability and subject to change by the cruise line at any time. For more information please contact one of our Mediterranean Specialists!