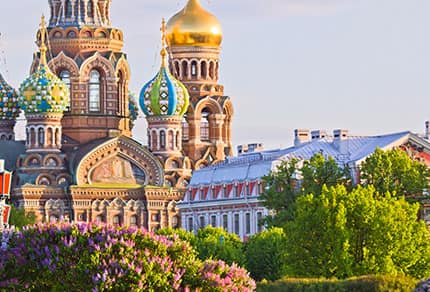 The Best Scandinavia & Russia Cruise Value!
Discover the land of Kings and Tsars in 2019 with Norwegian Cruise Line. An area rich in folklore and fairy tales, you'll be transported back to the time of the original oceangoing explorers. Experience Europe the way you've always dreamed from your balcony stateroom. Freestyle Cruising lets you pick the shore excursions you want to experience. Sail to the Baltic aboard the new Norwegian Getaway and you'll make memories to last a lifetime!
Highlights of this fabulous Baltic / Scandinavia & Russia cruise:
Tallinn, Estonia - The capital of Estonia impresses cruise guests with its mix of medieval houses and very modern boutiques and cafe culture. Journey inside the ancient walls of Old Town to explore stunning Medieval landmarks like Toompea Castle and a 15th Century apothecary shop. Move up a couple centuries to experience Tsar Peter I's Kadriorg Palace, filled with art and surrounded by sculpted gardens and peaceful woodlands.
Berlin, Germany - Shop, dine or stroll along the chic, tree-lined Unter den Linden Strasse. Walk through the fully restored Brandenburg Gate once the crossing point between a divided Berlin. Warnemuende is a major maritime center and the gateway to Berlin.
Two Days in St. Petersburg, Russia - The strong European influences of this once imperial capital are fascinating. Enjoy one of the finest art collections in the world at the Hermitage Museum. Visit the ornate Baroque Catherine Palace and the Smolny Cathedral.
Helsinki, Finland - Welcome to Scandinavia's White City of the North, a city defined more by its people and Art Nouveau architecture than its chilly climate (from October to April). Helsinki is a classic sea-city, with a dramatic coastline coloured by bays and inlets. The city keeps its historical roots intact.
Stockholm, Sweden - Explore the historic old town of Gamla Stan. Home of the Nobel Prize, Stockholm is made of 14 islands connected by boats and bridges. Visit the Royal Palace and the Vasa Museum.
Copenhagen, Denmark - The capital of Denmark is filled with canals, cobbled squares and copper spires. But don't let the historic appearance fool you. This is also Scandinavia's most cosmopolitan city. Certainly you can relive medieval times in The Latin Quarter, but you can also enjoy some of Europe's finest shopping, museums, cafes and night life prior to your cruise around the Baltics.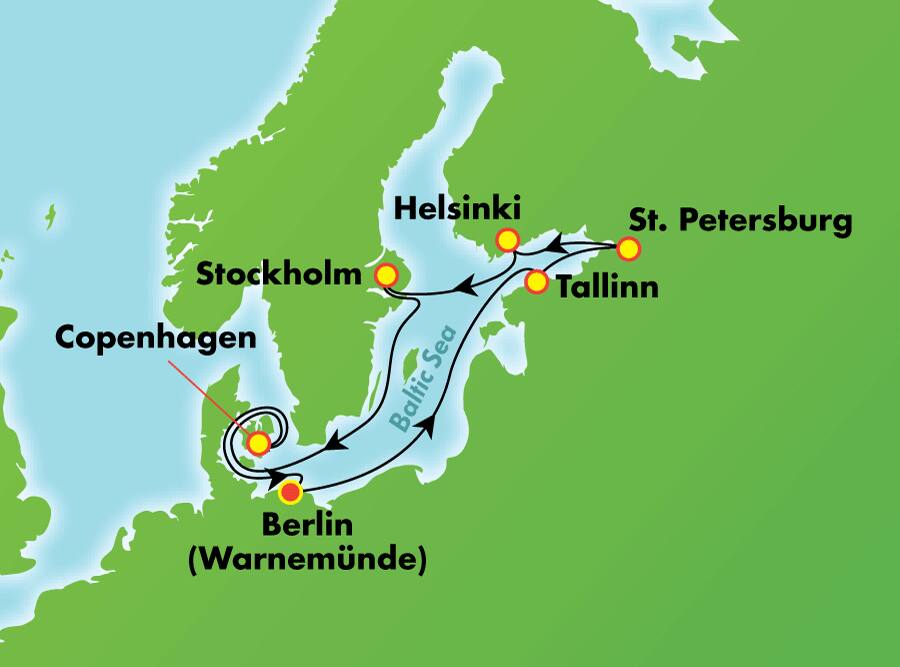 10 Day Scandinavia & Russia Cruise on Norwegian Getaway:
Day 1 - Copenhagen, Denmark
Day 2 - Berlin / Warnemunde, Germany
Day 3 - Cruising
Day 4 - Tallinn, Estonia
Day 5 - St. Petersburg, Russia (Overnight)
Day 6 - St. Petersburg, Russia
Day 7 - Helsinki, Finland
Day 8 - Stockholm, Sweden
Day 9 - Cruising
Day 10 - Copenhagen, Denmark
2019 Dates:
June 7, 16, 25
July 4, 13, 22, 31
August 9, 18, 27
September 5, 14, 23
October 2, 11

From $999 US
*Book an Inside to Receive 1 Free Offer!
*Book an Ocean View, Balcony or Mini-Suite to Receive 2 Free Offers!
*Book a Suite to Receive All 4 Free Offers!
-Free Unlimited Open Bar
-Free Specialty Dining
-Free WiFi Internet Package
-Free Shore Excursion Credits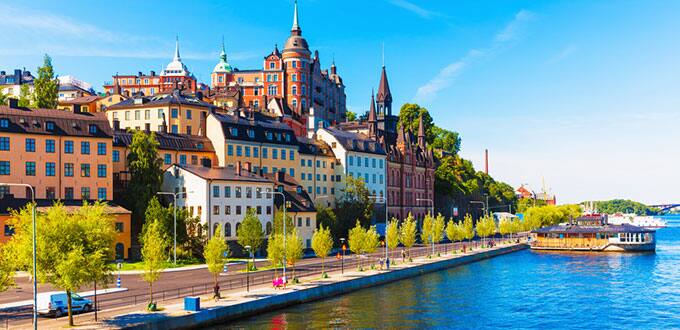 Norwegian Getaway
Miami's Ultimate ship, Norwegian Getaway combines the most magnificent amenities Norwegian has to offer with The Waterfront, an innovative, industry first open air promenade designed to connect guests with the ocean like no other cruise line. Indulge in more than 28 dining options, experience the thrill of five water slides, and three levels of action packed activities in the sports complex. The excitement and entertainment continues with Illusionarium, a surreal magical experience and Broadway musical Million Dollar Quartet. Get ready to explore the history of the Baltic on a Europe Cruise.
What's included? From traditional fine dining to endless buffets with custom-order action stations, there is a host of delicious options included in your cruise fare. For an additional cover charge, you'll have access to a world of possibilities including gourmet French, Japanese teppanyaki and an upscale steakhouse - 14 different dining options in all. Second City comedy troupe, a state-of-the-art fitness center, a sports court, bars and lounges of all kinds, pools, hot tubs, kid's centers, teen discos and more are all on board and included in your cruise fare. Flexible accommodations ranging from the affordable to the over-the-top opulence of our Suites & Villas. Wireless Internet access is available in your stateroom and all public areas, 24 hours a day. Fees apply.

All pricing above is in US Dollars, per person. Port charges & taxes are additional. Pricing is based on two people sharing and subject to availability. The "From" price listed on our website is for the September 19th departure date; other dates may have different pricing, please inquire. All pricing is based on availability and subject to change by the cruise line at any time. For more information please contact one of our Europe Specialists!