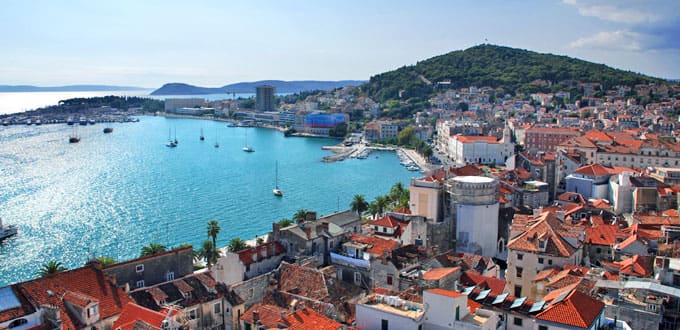 Mediterranean & Adriatic Cruise Sale!
For the nineth time Norwegian Cruise Line has won "Europe's Leading Cruise Line" by World Travel Awards. Step aboard Norwegian Spirit and discover vistas as diverse as the cultures you'll encounter during this Adriatic and Eastern Mediterranean cruise. From Rome's ancient ruins and the canals of Venice to the marble streets of Split, take a walk on the historic side. Whether you're a history buff, a foodie or amateur explorer, get ready for incredible experiences on this amazing 11 day round-trip cruise. Unpack once and wake up to a new city every day while exploring the sights, sounds and flavours of the Mediterranean, on your own schedule.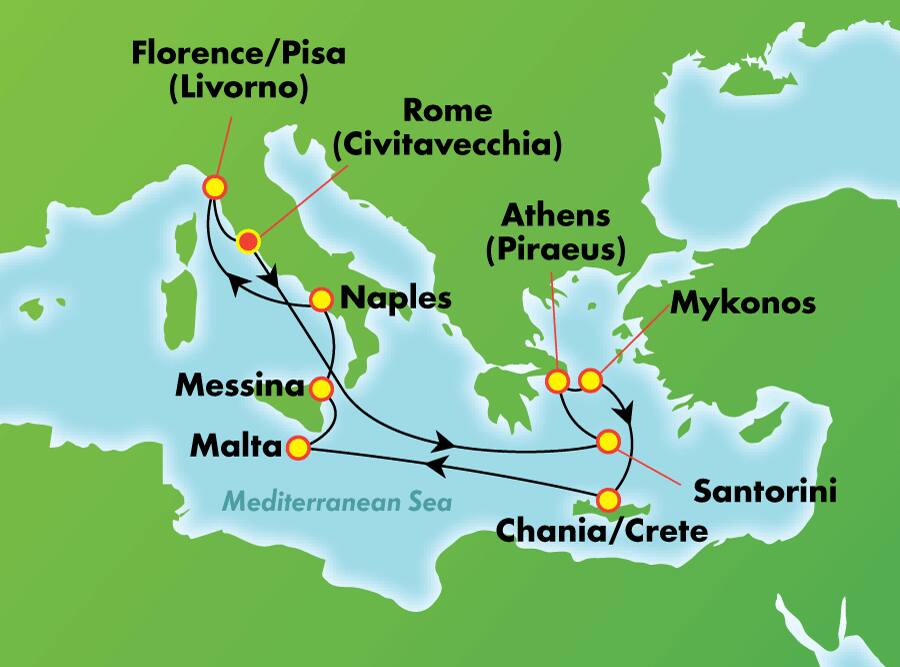 11 Day Mediterranean Cruise on Norwegian Spirit
Day 1 - Rome (Civitavecchia), Italy
Day 2 - Cruising
Day 3 - Santorini, Greece
Day 4 - Athens (Piraeus), Greece
Day 5 - Mykonos, Greece
Day 6 - Crete (Chania), Greece
Day 7 - Valletta, Malta
Day 8 - Messina - Sicily, Italy
Day 9 - Naples, Italy
Day 10 - Florence / Pisa (Livorno), Italy
Day 11 - Rome (Civitavecchia), Italy
2018 Dates:
April 15
May 6, 27
June 17
July 8, 29
August 19
September 9, 30
October 21

From $709 US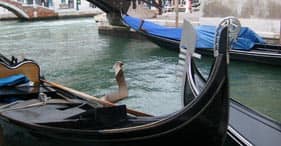 Mediterranean Cruise Highlights:
Dubrovnik, Croatia - Despite the magnificent 13th century walls that surround the city, Dubrovnik is one of the most welcoming cruise destinations in all of Europe. Dubbed "the pearl of the Adriatic" by the poet, Lord Byron, this Croatian city exudes romantic charm and beautiful scenery with its shimmering marble streets, centuries-old buildings capped by bright orange roofs, and lovely beaches ensconced between awesome rocky ledges. Explore more of Dubrovnik on a European cruise!
Venice, Italy - You could start a discussion about Venice by praising its restaurants, wine bars, marble churches or blown glass. But you probably won't. You'll likely start with the fact that Venice is built on water. It is a place where people either float slowly down palace-lined man-made waterways or stroll down narrow alleyways. There's no more extraordinary place to find yourself, or lose yourself. Be sure to stay in Venice before your next European cruise.
Koper, Slovenia - The largest town on the Slovenian coast, Koper boasts a colourful history dating back to Ancient Greece and Rome that springs to life in the Old Town. Here cruise guests can explore narrow intertwining streets lined with Istrian limestone facades. Enjoy open air festivals and plays, shop for local handicrafts, and savour the local favourites like jota soup, fish specialties and local wines. Explore more of Koper on a European cruise!
Split, Croatia - This Mediterranean city on the eastern shores of the Adriatic has a long and eventful history dating back to the awesome Diocletian's Palace (circa 295 A.D.) in the centre of the city. Split offers cruise guests a wealth of exciting places to visit, from the majestic cathedral and marble streets in the centre of town to the harbour area with its caf-lined promenades and views of coastal mountains.
Corfu, Greece - One of the lushest of the Greek Isles, Corfu is rimmed in dramatic blue waters and topped with tranquil hillside villages. A collection of quaint cafes in the town of Corfu feels very continental, but the island's secluded coves and sandy beaches could only be found in the Greek Isles. Explore more of Corfu on a European cruise!
Olympia, Greece - This quaint little seaside town on the Ionian Sea is the gateway to Ancient Olympia, where Greek mythology was born and the first Olympiad was held. You may still be able to hear the distant echoes of the ancient Greeks cheering as you tour the ruins of one of the most important and exciting sanctuaries of antiquity. Explore more of Katakolon on a European cruise!
Valletta, Malta - Although somewhat scarred by World War II, Valletta prides itself on its magnificent Baroque palaces, piazzas, gardens and churches. The Magisterial Palace, built between 1571 and 1574, now houses the Maltese Parliament and offices of the President of Malta.

Norwegian Spirit
Explore the history of the Mediterranean. Whatever you choose to do, you will be travelling in style on Norwegian Spirit. While onboard make a trip to the Tivoli Pool, soak in one of our four outdoor hot tubs, or take the kids to Buccaneer's Wet and Wild. That's just the beginning - with 14 delicious dining options, 12 bars and lounges, the Maharaja's Casino, and the Roman Spa & Fitness centre at your fingertips, you're ready to have a vacation of a lifetime!
What's included? From traditional fine dining to endless buffets with custom-order action stations, there is a host of delicious options included in your cruise fare. For an additional cover charge, you'll have access to a world of possibilities including gourmet French, Japanese teppanyaki and an upscale steakhouse - 14 different dining options in all. Second City comedy troupe, a state-of-the-art fitness center, a sports court, bars and lounges of all kinds, pools, hot tubs, kid's centers, teen discos and more are all on board and included in your cruise fare. Flexible accommodations ranging from the affordable to the over-the-top opulence of our Suites & Villas. Wireless Internet access is available in your stateroom and all public areas, 24 hours a day. Fees apply.

All pricing above is in US Dollars, per person. Port charges & taxes are additional. Pricing is based on two people sharing and subject to availability. The "From" price listed on our website is for the June 18th departure date; other dates may have different pricing, please inquire. All pricing is based on availability and subject to change by the cruise line at any time. For more information please contact one of our Europe Specialists!