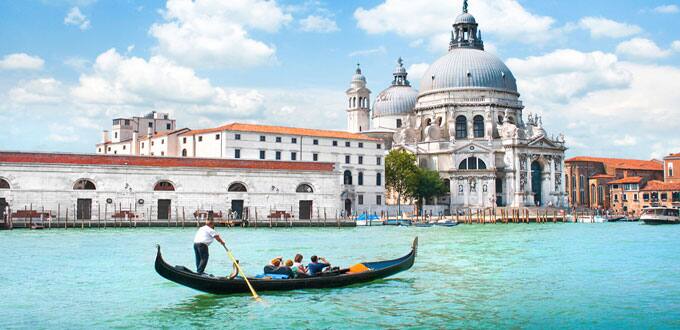 11 Day Mediterranean Cruisetour Featuring Venice!
Take in the wonders of the Greek Isles on this cruise brimming with history and breathtaking scenery. Climb the 1,350 steps to the top of Kotor's town wall, dating back to the 9th century, rewarding your effort with glorious, postcard-perfect views of churches, palaces and quaint squares. Sip a glass of ouzo at a charming hillside tavern in Santorini, admiring the view of whitewashed buildings accented in blue that matches perfectly with the Aegean Sea. When arriving in Venice, make your way along the Grand Canal via gondola and behold the gothic architecture of the Doge's Palace.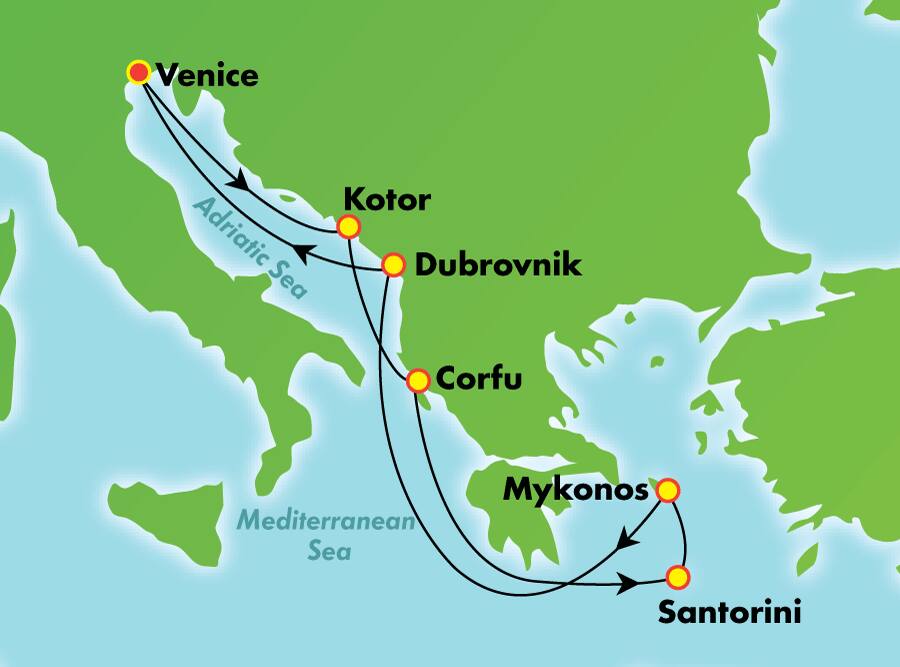 Highlights: 3 Night Land Tour Featuring 3 Nights Venice, Half Day Venice Walking Tour, Half Day Tour to Murano & Burano Islands
PLUS 7 Night Greek Isles Cruise
11 Day Venice Cruisetour Itinerary:
Day 1 - Venice, Italy
Arrive into Venice. You'll be transferred to your hotel. Overnight in Venice.
Day 2 - Venice, Italy
Enjoy a half day walking tour of Venice. You'll begin in Piazza San Marco where you'll enjoy the sights of Palazzo Ducale, Bell Tower, Clock Tower, and Santa Maria Formosa. You'll visit the massive Palazzo Ducale, with its surprising rich detailed gold staircase and relive the the anguish of prisoners crossing the famous Bridge of Sighs. You'll take a guided tour inside St. Mark's Basilica, where you'll enjoy the gold mosiacs and marble inlays of the floors. Then you'll enjoy entrance into Dodges Palace. Overnight in Venice.
Day 3 - Venice, Italy
Enjoy a half day tour by boat to Murano, Burano and Torcello. You'll begin by sailing poast the island of San Giorgio Maggiore, the Public Gardens, the tip of Sant'Elena and the famous Lido Beach Resort. Your boat will arrive in Murano, known throughout the world for its glass manufacturing industry, where you'll enjoy a glass factory visit. Then you're off to the island of Burano, a picturesque island famous for it's lace and fisherman's houses painted in bright colours. You'll then reach Torcello, the earliest centre of civilzation in the estuary. Overnight in Venice.
Day 4 - Venice, Italy
After a leisurely morning you'll be transferred to the Norwegian Star for your Greek Isles cruise.
Day 5 - Kotor, Montenegro
Tucked away between the mountains and the Bay of Kotor, one of the most indented parts of the Adriatic Sea, is where you'll find the picturesque town of Kotor. In port 2:00pm to 8:00pm.
Day 6 - Corfu, Greece
One of the lushest of the Greek Isles, Corfu is rimmed in dramatic blue waters and topped with tranquil hillside villages. In port 10:00am to 4:00pm.
Day 7 - Santorini, Greece
Whitewashed villages clinging to the sides of the sea cliffs have made the volcanic island of Santorini one of the most widely photographed places in the world. In port 2:00pm to 10:00pm.
Day 8 - Mykonos, Greece
Mykonos is a classic Greek Island with whitewashed houses, blue-domed churches and windmills. Add a reputation for beautiful beaches and you'll understand why Mykonos is the most popular island in the Cyclades. In port 8:00am to 4:00pm.
Day 9 - Cruising
Day 10 - Dubrovnik, Croatia
Despite the magnificent 13th century walls that surround the city, Dubrovnik is one of the most welcoming cruise destinations in all of Europe. Dubbed 'the pearl of the Adriatic' by the poet, Lord Byron, this Croatian city exudes romantic charm and beautiful scenery with its shimmering marble streets, centuries-old buildings capped by bright orange roofs, and lovely beaches ensconced between awesome rocky ledges. In port 7:00am to 1:00pm.
Day 11 - Venice, Italy
Your cruisetour ends this morning with a transfer to the airport.
2018 Dates:
June 10, 17, 24
July 22, 29
August 5, 12, 19
September 2, 9, 16, 30
October 7, 14
From $1199 US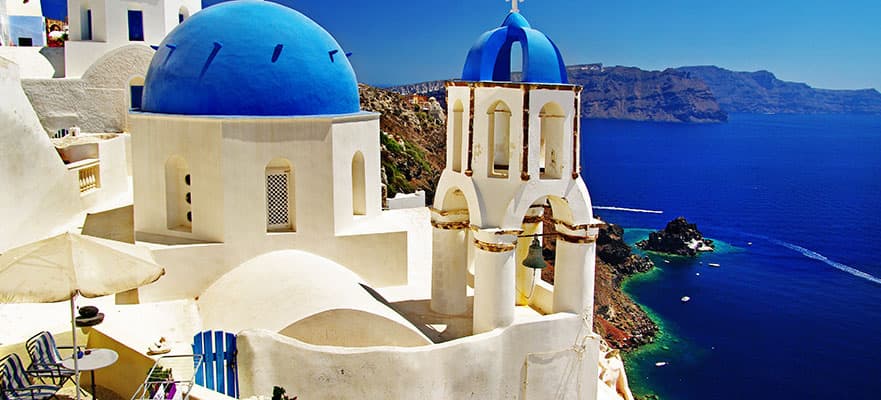 Norwegian Star - The Norwegian Star blends the relaxed Freestyle Cruising concept with cruises to the Greek Isles. Onboard Norwegian Star features 15 delicious dining options, 11 bars and lounges, a sprawling spa, an always exciting casino, plus tons of fun for kids of every age. So no matter where you are exploring this ship offers it all.
Enjoy the World Class Spa! Revive, refresh and recharge in the Mandara Spa. Let our pampering professionals soothe and rejuvinate you with facials, massages, acupuncture and more. Our full menu of services will leave you feeling like a million!
Mix it Up with 10 Bars and Lounges! Norwegian Star feature up to 10 bars and lounges, each with its own unique vibe. Gather at Gatsby's Champagne Bar for a sunset toast or try the international selection of beers at the outdoor Bier Garten.


All pricing above is in US Dollars, per person. Port charges & taxes are additional. Pricing is based on two people sharing and subject to availability. The "From" price listed on our website is for the April 30th departure date; other dates may have different pricing, please inquire. All pricing is based on availability and subject to change by the cruise line at any time. For more information please contact one of our Mediterranean Specialists!