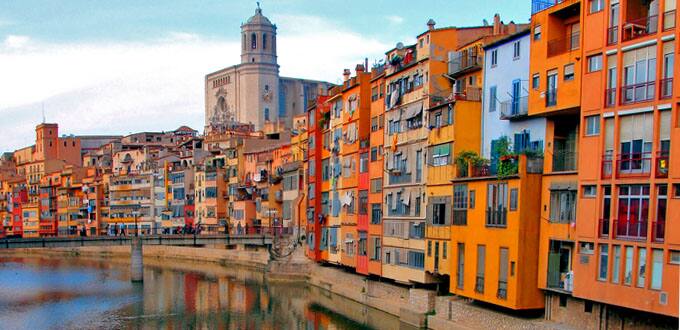 Norwegian Spirit Canary Islands & Morroco Cruises!
You'll visit exotic Casablanca and experience one of Morocco's best-preserved medinas and the Hercules Caves. In Las Palmas in the Canary Islands, you can hop on a bus to see the seaside sand dunes of Maspalomas. Bring a towel for a dip at the beach. From Gran Canaria, journey to the other big island of the Canaries, Tenerife, where a motorcoach tour will take you above the tree line and over the clouds to see Spain's tallest peak, the Teide.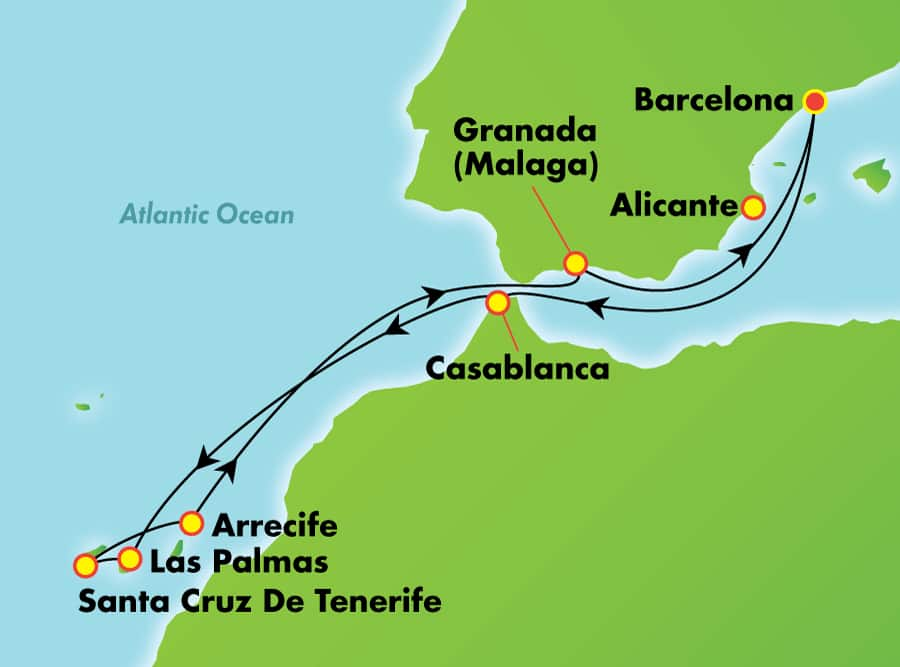 10 Night Canary Islands & Morocco Cruises Roundtrip Barcelona
onboard Norwegian Spirit
Cruise Itinerary:
Day 1 - Barcelona, Spain
Day 2 - At Sea
Day 3 - Casablanca, Morocco
Day 4 - At Sea
Day 5 - Las Palmas, Canary Islands
Day 6 - Santa Cruz de Tenerife, Canary Islands
Day 7 - Funchal, Madeira
Day 8 - At Sea
Day 9 - Granada (Malaga), Spain
Day 10 - Alicante, Spain
Day 11 - Barcelona, Spain
2018 Dates:
February 13, 23
From $769 US

Canary Islands Cruise Highlights:
Barcelona, Spain - The capital of Catalonia, and one of its provinces, Barcelona, is a place of palpable history, where you can lose yourself strolling down the medieval streets of the Barri Gotic. It's a city designed to delight the senses: visit other-worldly Modernista churches like Gaudi's La Sagrada Familia, or treat yourself at a street side cafe to Patatas Bravas or a Passion Fruit Mojito. Explore more of Barcelona on a European cruise!
Granada, Spain - The strategic position to the Mediterranean Sea has always made Malaga an attractive zone for foreign invasions. From Malaga, a trip to Granada showcases an intriguing blend of Arab and European cultures. Be sure to visit The Alhambra, one of the finest examples of Moorish art in Spain.
Casablanca, Morocco - The urban landscape of this famed city clearly demonstrates the contrasts between the old and the new. Start with a visit to the central market, a massive kaleidoscope of colours. Then kick off your shoes as you visit the modernist landmark of the Hassan II Mosque, the 3rd largest mosque in the world.
Las Palmas, Canary Islands - Founded in 1478, today Las Palmas is a bustling, cosmopolitan city with plenty of Spanish ambience, culture and history to go around. Take a scenic drive through the Angostura Valley for an unforgettable experience. Explore more of Las Palmas on a European cruise!
Norwegian Spirit - Explore the history of the Mediterranean, feel the balmy breezes of the Bahamas or the Caribbean, or just sit back and relax while you cruise across the Atlantic. Whatever you choose to do, you will be travelling in style on Norwegian Spirit. While onboard make a trip to the Tivoli Pool, soak in one of our four outdoor hot tubs, or take the kids to Buccaneer's Wet and Wild. That's just the beginning - with 14 delicious dining options, 12 bars and lounges, the Maharaja's Casino, and the Roman Spa & Fitness centre at your fingertips, you're ready to have a vacation of a lifetime!

All pricing above is in US Dollars, per person. Port charges & taxes are additional. Pricing is based on two people sharing and subject to availability. The "From" price listed on our website is for the February 13th departure date; other dates may have different pricing, please inquire. All pricing is based on availability and subject to change by the cruise line at any time. For more information please contact one of our Mediterranean Specialists!